Working Mom with a Dream
ng two kids while working as a licensed practical nurse would be enough on the plate for most people, but not for Heather Waldner. The Coleman resident is an LPN at Crowsnest Pass Health Centre and dreams of someday becoming a nurse practitioner. That dream came one step closer to fruition recently thanks to a grant from the Dixie Weber Memorial Staff Education Bursary.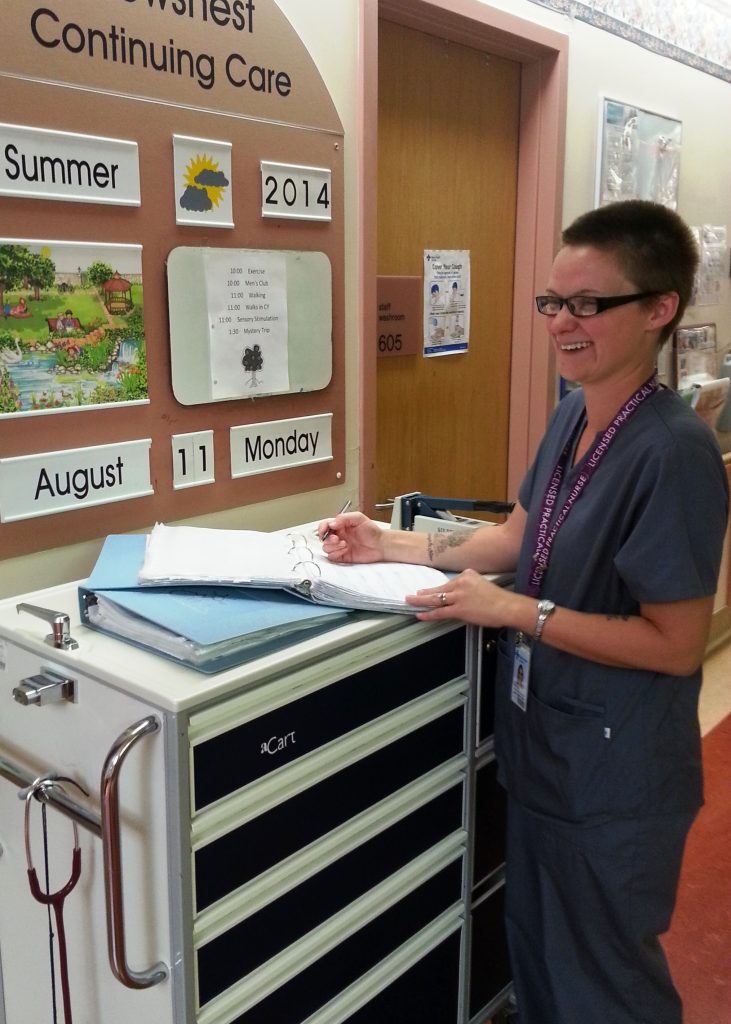 "It's going to take a long time to achieve but my husband and I have it planned out," Heather explains. "Over the next four years I'll get my RN degree (registered nurse) while continuing to work, then two years for a master's degree that will lead to becoming a nurse practitioner after two more years."
Heather received a $900 grant from the local bursary, which was set up by the family of Dixie Weber to assist staff at Crowsnest Pass Health Centre who wish to enhance their skills and knowledge while continuing to work.
"That might not sound like a lot of money to some people, but to me it paid for an entire course, so it's huge," Heather said. "I'm getting my first degree on-line through Athabasca University because that works best for me and my family."
The Waldners have two young daughters, ages 2 and 3. "They keep us both pretty busy, that's for sure," said Heather, "but because the course is on-line I can study and work on my degree after the girls go to bed for the night."
Nurse practitioners at Alberta Health Services work in a variety of settings including hospitals, community health centres, continuing care facilities, clinics, urgent care centres and within client homes. Nurse practitioners provide expert clinical care and work with a high degree of independence. Nurse practitioners play an important role and work in collaboration with other members of the health care team including physicians, nurses, therapists, technologists, administrative staff and managers.
"It's important to set goals in life and being a nurse practitioner is mine," Heather said. "I really appreciate the Dixie Weber Memorial Staff Education Bursary being there to help me and others in Crowsnest Pass."
Full-time and part-time employees of Crowsnest Pass Health Centre are eligible to apply for funding, including Registered Nurses, Licensed Practical Nurses, Health Care Attendants, Laboratory, Medical Imaging, Respiratory, Recreation Therapists and EMS. Crowsnest Pass Health Foundation stewards the bursary and grants are awarded twice each year, in the spring and fall.  $10,000.00 per year is awarded to worthy local health care providers.
The Foundation also accepts gifts in support of the Dixie Weber Memorial Staff Education Bursary. Donations directed to the bursary (or greatest needs) can be dropped off at Crowsnest Pass Health Centre or mailed to:
Crowsnest Pass Health Foundation
Box 455, Blairmore, AB T0K 0E0   (403) 627-1200 ext. 1131